What is it, and how you can incorporate it to make every lesson count
Sparking enthusiasm and active participation in lessons, while building knowledge and understanding, is one of teaching's perennial challenges, one that can be particularly difficult to overcome when most of your students are learning from home.
We know that students who are more actively engaged and interested in the topics they are studying are more likely to learn and grasp the subject at hand.
How are you stimulating and maintaining active engagement? This blog explores our take on one method - "bookended learning" - that you can apply to make online teaching count. It's centred around two key principles: 
Bookend 1: Preload knowledge before a lesson 
Bookend 2: Reinforce knowledge after a lesson
Your target lesson is nicely sandwiched in the middle of them!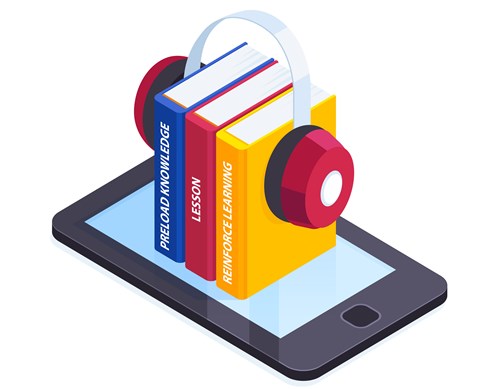 It's a simple concept to get your head around but what are the benefits to students?
Let's start with the first bookend.
Preloading knowledge before a lesson supports your students to learn and enhances your lesson time. It:
engages students from the outset.  Done well, it can pique students' interest in a subject so they come to the lesson open to learning more, making the actual lesson time even more valuable.
activates students' knowledge. Some prior learning helps students to make connections between previous topics and the one being covered in class.
facilitates richer in-class discussion. Coming to the lesson armed with some background knowledge on a topic gives students the opportunity to explore their opinions on a subject and develop their understanding. It frees the classroom up to be a place for discussion and debate and for thinking outside the box!
Now let's consider the other half of the bookend.
Reinforcing knowledge after a lesson:
consolidates knowledge and understanding. Ideally done on the same day, a follow-up activity can solidify that understanding whilst it's fresh in the mind.
promotes deeper thinking as students can go beyond the content covered in the lesson to develop a broader understanding of the topic.
provides students with closure to a lesson or a topic, helping to reinforce the significant aspects of the lesson and remember the key points.
allows students to practise what has been learned and opens up opportunities to unpick any misconceptions that might have arisen.
Simple ways to bookend your lessons
There are myriad different technologies that teachers can use for bookending a lesson and school closures have encouraged educators to experiment with more tools they might not have considered previously.
Top activities for bookending lessons include:
Videos - try TED Talks or Ted-ED for education
Online quizzes - why not create your own using something like Quizlet?
Teacher-recorded videos using screen-capture software like Loom 
Podcasts - Audiopi have hundreds of topic-specific ones to choose from
Ask students to prepare a presentation on the topic encouraging them to 'teach the teacher', creating the opportunity for conversation and debate in the classroom.
The aim of all these activities and tools is to introduce topics to students ahead of a lesson and consolidate that knowledge and understanding post-lesson.
By bookending a lesson with relevant and interesting content, students can both enter the classroom with a basic understanding which enhances learning and engagement, and then quickly reinforce what they've learned afterwards. 
It's a simple but effective strategy that can really help teachers support all their students in these difficult times to reach their full potential.
Bookend your lessons with topic-specific podcasts from Audiopi for FREE!
With Audiopi, students have access to hundreds of curriculum-aligned podcasts that can be listened to pre and post-lesson. 
Giving students the chance to step away from their screens, Audiopi podcasts encourage critical thinking, foster discussion and reinforce understanding. 
Available to listen to on any device, students can listen on their daily walk or even over breakfast!